Concrete-based Thermal Energy Storage system
solidTES is a simple thermal energy storage concept based on a multi-tube array (throughout which HTF passes) embedded in a high thermal performance composite material which composition varies depending on operational temperature range required. System is able to operate with distinct heat transfer fluids, such as molten salts, thermal oil, pressurized water, steam or air,  from renewable or convetional power sources.
solidTES implies an inexpensive, more compact and simpler operational solution in comparison to a pressurized hot water storage systems, among others,  due to the main following features:
solidTES is a Thermal Energy Storage system based on solid-state blocks modularly added to achieve demanded thermal energy capacity ranging from 150 up to 500 ⁰C.
Solid blocks are traversed by steel tubes heat exchanging with internal heat transfer fluid (HTF), thermal oils, molten salts, air, pressurized water or steam coming from both conventional or renewable heating sources (gas boilers, concentrated solar power, etc.)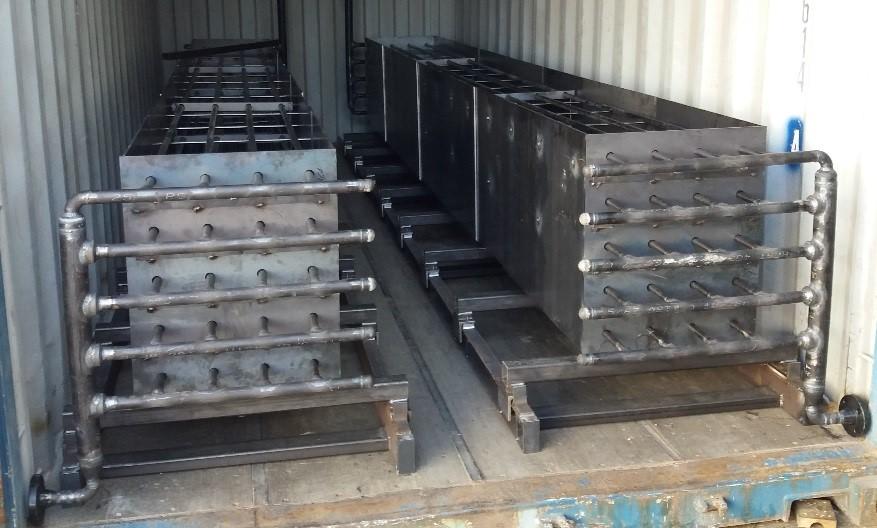 Due to its extreme thermal capacity, very compact and cost effective system is possible, providing a thermal storage solid solution: secure, easy, stable, firm, strong, massive, sound and reliable.
SolidTES thermal energy storage system is charged by sensible heat using hot HTF up to required temperature and discharged when process heat demands by heating colder HTF. Available HTF medias range from water, steam, air up to thermal oils and molten salts.
SolidTES storage system optimizes thermal process heat plant operation by better utilization of solar energy: