Esta semana hemos tenido la inmensa suerte de asistir al H2 Revolution International Congress of Puertollano (#sabemoscomo; #h2revolution); un evento internacional en el que se ha impulsado a la Ciudad de Puertollano y a la Comunidad de Castilla-La Mancha en su conjunto, como el lugar desde el cual se quiere fomentar la revolución del Hidrógeno Verde o Renovable (cada cual tiene su forma personal de llamarlo) en España.
El evento se ha celebrado en el Palacio de Ferias y Congresos de Puertollano, que, para los curiosos por la historia, fue rehabilitado pasando de ser una antigua central termoeléctrica que utilizaba el carbón de las minas próximas como combustibles, a ser al pabellón donde hemos pasado estos días de congreso. Concretamente el pabellón comprendía la zona de turbinas y el edificio de transformadores. 
Han participado empresas de muchos ámbitos, tanto del sector público como privado. Como decía la presentadora del evento, Helena con "H", por allí había desde abogados, personalidades de las más altas instituciones, ingenieros y profesionales de todos los sectores, pero también había gente menos relacionada con este mundo tan técnico que rodea al Hidrógeno; y que, como ella, se contagiaban con la ilusión transmitida tanto por los ponentes como por las personas que compartíamos aquel momento; personas que sienten pasión por su trabajo y que tienen ganas de cambiar el mundo.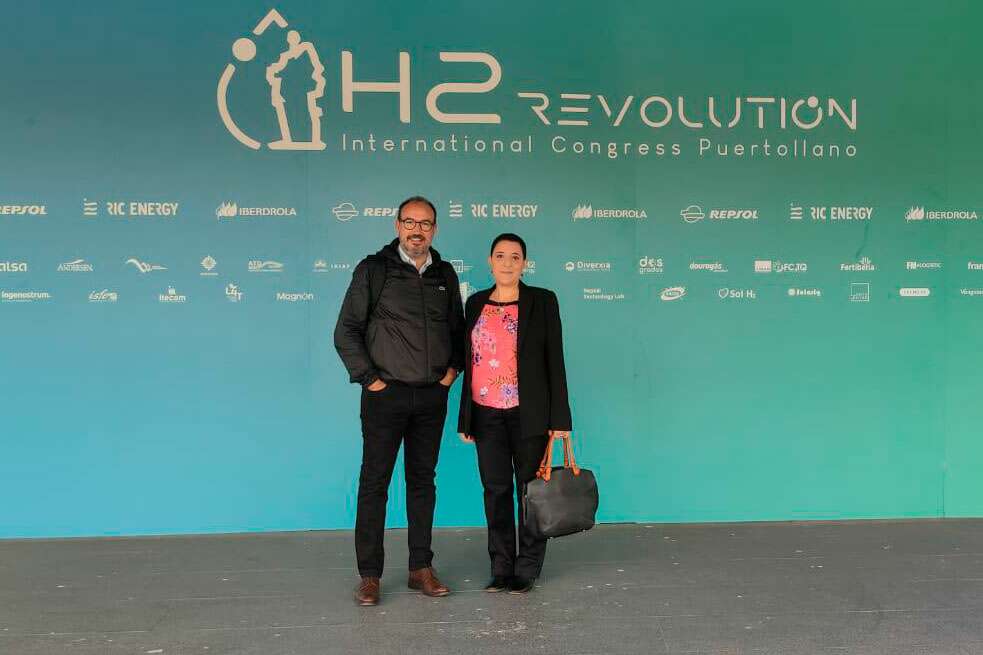 Nuestro equipo de trabajo está formado por personas así, con ganas de cambiar el mundo. Y sabemos que estamos en la era del Hidrógeno, con "H".
En CADE desarrollamos actividades de ingeniería y consultoría aplicada a la producción, separación y almacenamiento a alta presión del Hidrógeno como vector de almacenamiento energético, y a su integración con la generación renovable.
Trabajamos con tecnología y know-how propio de producción, separación y almacenamiento a alta presión de gases renovables (hidrógeno, metano y CO2), basada en gasificación en agua supercrítica, con aplicación a biomasas acuosas, residuales o cultivadas (algas) e integrable como almacenamiento energético para generación renovable (Power to gas). También estamos desarrollando tecnologías propias en almacenamiento de energía en materiales sólidos, entre otros.
En esta nueva era del Hidrógeno, con "H", formamos parte del proyecto ECLOSIÓN (proyecto MISIONES de hidrógeno renovable y biometano para impulsar una economía descarbonizada, sostenible y circular), donde también participan entidades como la UCLM, con quien CADE colabora y ha colaborado en el desarrollo de otros proyectos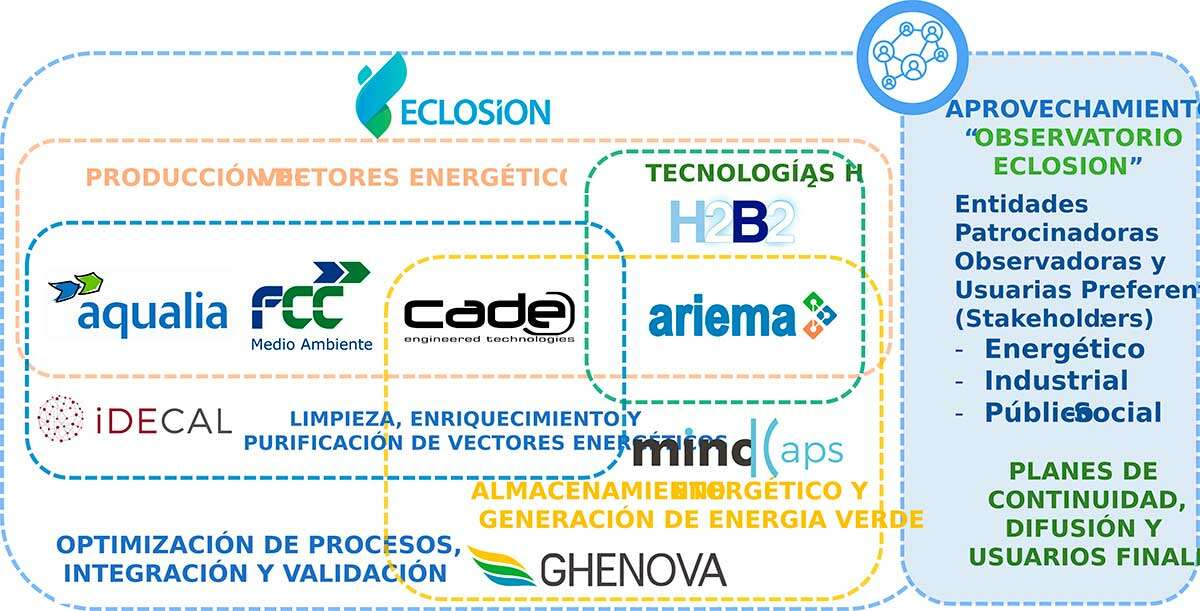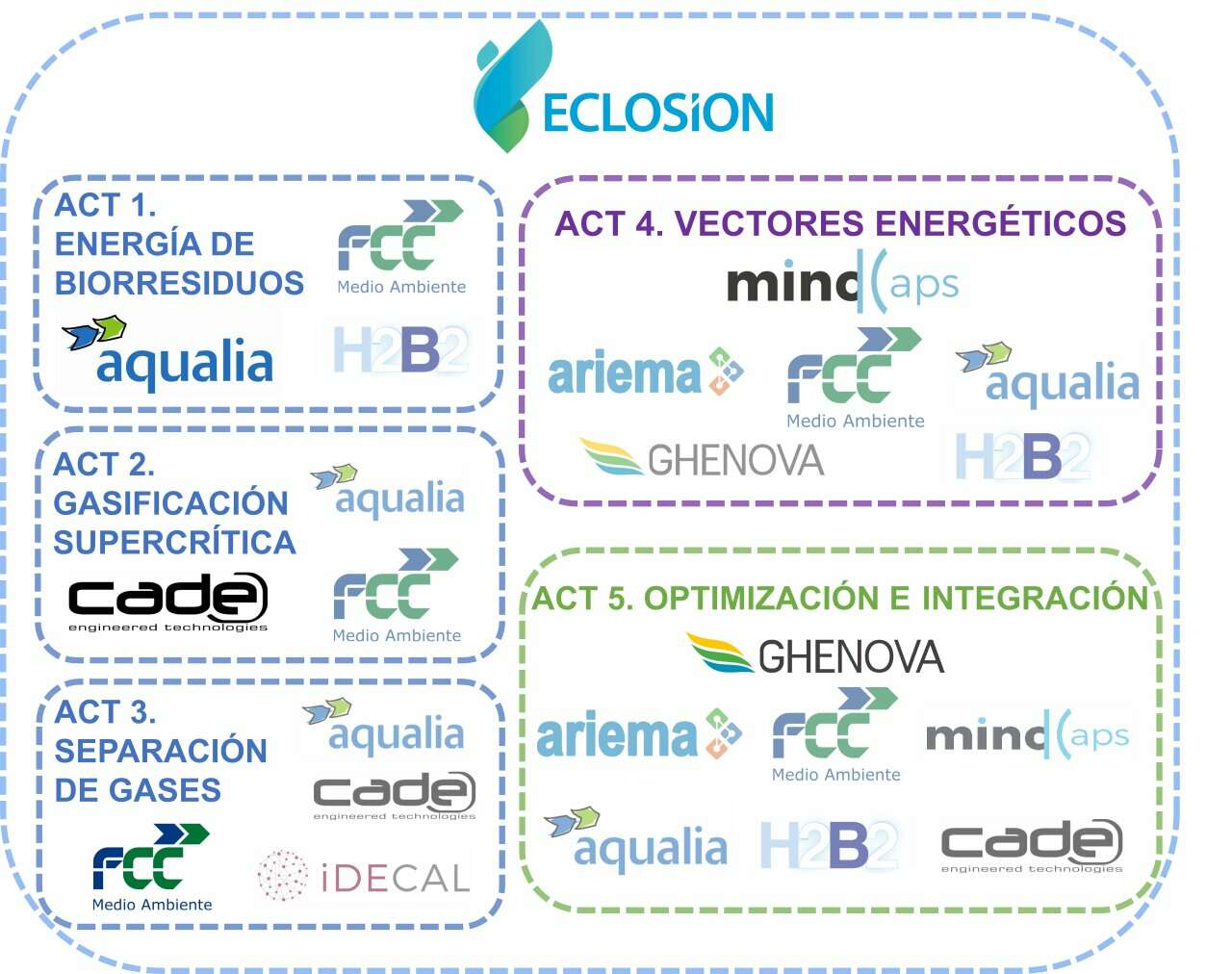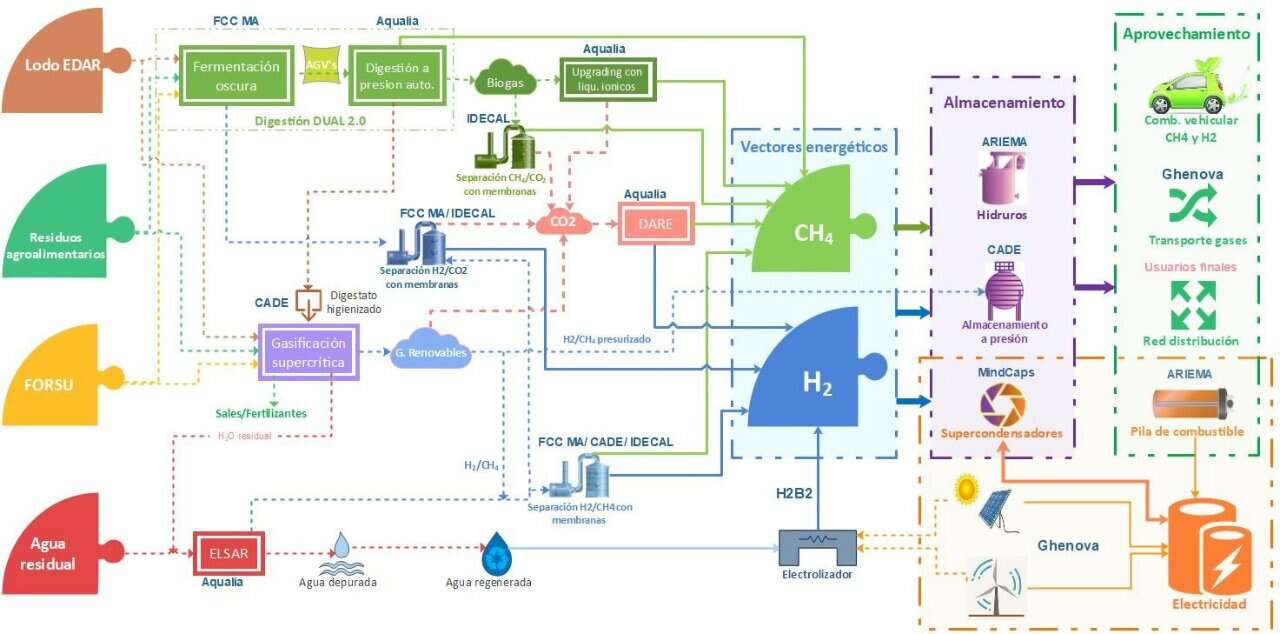 Pincha para ver el organigrama del proyecto ECLOSION
De hecho, en este congreso del Hidrógeno, con "H", entidades como la UCLM o el Centro Nacional del Hidrógeno (CNH2), al que también pertenecemos, han mostrado los múltiples proyectos en los que están involucrados asociados a nuevas tecnologías, materiales y usos tanto del hidrógeno como de otros gases renovables.
También se ha hablado mucho en este congreso (H2revolution) de la importancia de todos los actores de esta película que es el Hidrógeno; De las alianzas necesarias entre las administraciones y las empresas para que estos proyectos no se eternicen en el tiempo esperando los permisos necesarios para poder iniciarse.
Además de producir el hidrógeno, también hay que almacenarlo y transformarlo para que pueda ser usado posteriormente en otras aplicaciones, como por ejemplo en movilidad, reduciendo así emisiones de CO2. En definitiva, hay que trabajar en toda la cadena de producción del Hidrógeno, desde la cuna hasta la tumba, y todos tenemos que aportar nuestro granito de arena, nuestro valor.
CADE cuenta con 20 años de experiencia en el sector de la ingeniería y la consultoría, acompañando a nuestros clientes en todas las fases de los proyectos, desde su gestación hasta su puesta en servicio.
Porque en esta tierra lo tenemos todo: el sol, el viento, el agua y el conocimiento. Porque tenemos tanto la ilusión como ganas de trabajar para mejorar el mundo, en CADE apostamos por el Hidrógeno Verde (o Renovable) y porque #sabemoscomo hacerlo, lema de este congreso. 
Gracias al H2 Revolution International Congress of Puertollano por la acogida.
Para alguna pregunta  o más información sobre nuestros servicios y capacidades, complete el siguiente formulario: