In 2009, CADE created a specific department for the development of Research, Development and Innovation (R+D+i) activities, providing it with its own personnel and means for the development of various technological initiatives. A strategic initiative whose purpose was, and is, to channel and enhance the knowledge developed in multiple sectors and clients to offer high-impact solutions, applications and technologies in the energy and environmental fields.
Since then, CADE has developed various R&D&i projects under different lines of European, national and regional financing, and since 2014 CADE has been certified for R&D&i management systems, in accordance with the UNE standard. 166002.
Nowadays, CADE is already in the development phases of  technologies and applications for organic waste with a high water content, such as sewage sludge, slurry, among others (SCWG ZeroSD), and commercialization phases of comprehensive and innovative solutions for thermal energy storage (SolidTES),  zero discharge technologies for wastewater treatment through solar thermal source (ZeroLD), among other technologies and own developments.
Regarding ongoing projects, CADE is proud to participate in the development of two of its technologies, within the ECLOSION and TES4TRIG projects.
The ECLOSION project is funded within the MISIONES CIENCIA E INNOVACION 2021 call, subsidized by CDTI with the support of the Spanish Ministry of Science and Innovation and funding from the European Union through the Next Generation EU program.
ECLOSION's main objective is to create new materials, technologies and processes for the generation, storage and transport of renewable and local hydrogen and biomethane. This research will be carried out in companies, laboratories and specially equipped infrastructures of the research organizations and in four development centers, the Valladolid Waste Treatment Center, managed by FCC Medio Ambiente and in the treatment plants of Salamanca, Lleida and Jerez de la Frontera, managed by Aqualia.
The national deployment of this solution would allow reaching an annual capacity of 64 TWh of hydrogen (including 46.5 TWh of biohydrogen) and 8.8 TWh in the form of biomethane, which would mean an outstanding contribution of 4.8% to the Spanish national energy mix.  In addition, it would guarantee reaching the 2030 energy production objectives included in the Hydrogen and Biogas Routes, and would lead to a reduction in greenhouse gas emissions of approximately 13.8 million Tm CO2, 5.3% less compared to the figure for 2019.
The ECLOSION project will be developed by a consortium made up of eight companies: FCC Medio Ambiente, CADE, Ghenova, ARIEMA, H2B2, Idecal and MindCaps and Aqualia, which assumes the role of leader.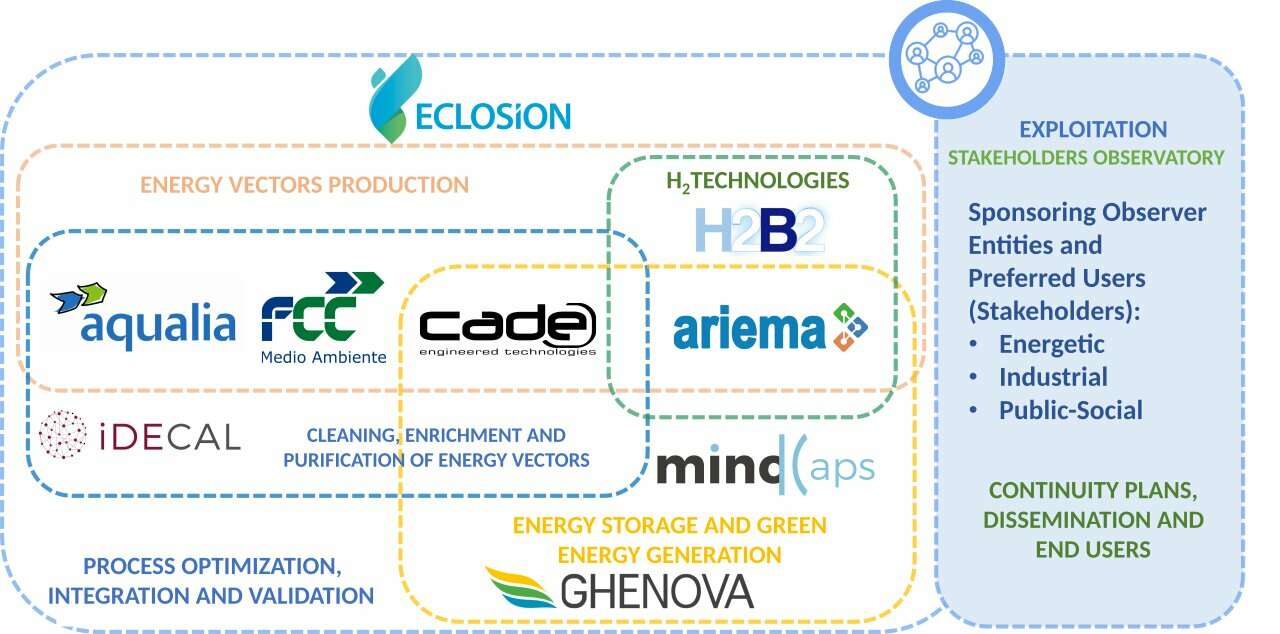 Another strategic project in which CADE is currently immersed is TES4TRIG, which is part of the European Commission's CSP_era.net call and whose financing is articulated through CDTI.
TES4TRIG is an innovative solution for the generation of heat, cold and electricity from solar energy. The main component of this technology is a concrete and aggregate thermal storage module (TES), which will be the system that CADE will develop and supply at the final site of the project. In addition to the study of materials and configuration alternatives for the thermal storage system, environmentally sustainable fluids will be studied and selected: refrigerants with zero ozone depletion potential (ODP) and low global warming potential (GWP), as well as thermal base oils silicone as heat transfer fluid (HTF)
The TES4TRIG project will be developed by a consortium formed by CADE, Protarget AG and the University of Athens, which assumes the leading role.
The journey of more than 10 years in R&D&I activities, as well as the consolidation of a highly qualified work team and a highly efficient media structure, allow CADE to have technological assets of great potential, on which support the company's strategic plan for the coming years.
For any query or request for additional information about our services and technologies, please complete the following form: