What is additive manufacturing? Technologies and materials
Additive Manufacturing
, also known
3D Printing
, is a family of manufacturing technologies capable of producing objects by means of sequential  deposition of layers as opposed to the
classic subtraction techniques, such as machining.
Although its origins date back several decades, this technological advance has been enhanced with the transition from analog to digital processes, and its special importance in what we know as industry 4.0.
The main advantage of these technologies is a reduction of more than 60% in the use of materials during the manufacturing process, which implies a reduction in the weight of the manufactured parts. Likewise, the AM drives to a significant reduction in the prototype development times due to its great agility, versatility and reduced cost in iterative processes, in addition to allowing the execution of complex geometries that are not possible with traditional methods.
Currently, there is a wide range of AM technologies, which make possible to work with all types of materials: plastics, metals, ceramics, or wood, covering multiple application fields and products with the implementation of these techniques
In line with CADE's strategic vision over Industry 4.0, and the use and application of the most advanced technologies in the development of its activity as a service company and high-value industrial solutions, the company has its own prototyping laboratory, called CADE LAB, on which the collaborative robotics solutions and applications developed by CADE COBOTS orbit.
Regarding AM, CADE LAB is equipped with four FDM (Fused deposition modeling) printers and the only printer on the market with CRF (Continuous Fiber Reinforcement) technology, which allows working with a continuous carbon fiber filament to achieve the highest mechanical performance with the minimum weight.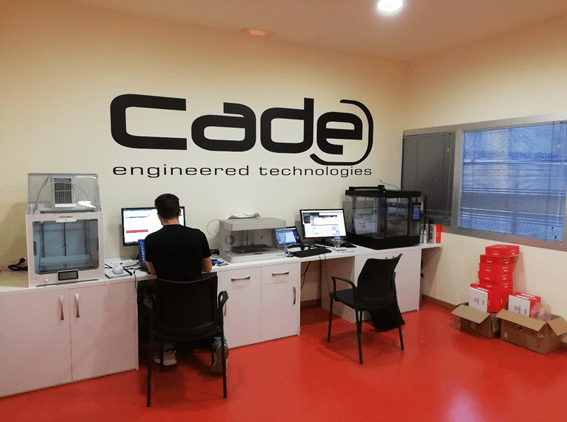 Advantages of using additive manufacturing
Besides the AM advantages already mentioned, we add the following in our design:
Fast prototyping, with which we can shorten the iterative design process, having the parts available in less than 24 hours.

High quality, with final manufactured parts in their right dimensions fitting properly in the mechanical assembly.

Flexibility and response: By having our own resources and technological knowledge, these techniques enable us to develop quick solutions on-demand and include modifications without external dependence.

Low production costs, to keep our competitive capacity offering highly technical products at the best market prices.
Application of Additive Manufacturing to CADE's collaborative solutions
Collaborative robotic solutions have a weight limitation depending on the chosen robot. When proposing a solution to customers and choosing the most suitable cobot, our engineers must take into account the sum of the weight of the load to be moved plus that of the manipulator itself. Therefore, both design and materials considered for the manipulator must be appropiate to avoid any decrease in the capacity of the robot.
In addition, the parts manufactured by 3D printing allow the integration of metal inserts to make bolted connections, as well as the assembly with parts of other materials to form sets.
The study of the stresses to which the part is subjected using CAE tools (Finite Element Analysis) also allows its optimization by modifying the density of each area and the meshing that forms the internal structure.
See below pictures of manipulators:
For any query or request for additional information about our services and technologies, please complete the following form: