FRP (Fiber Reinforced Plastics pipes) or GRP (Glass Reinforced Plastics pipes) , both terms are interchangeable, are composite material pipes consisting of a polymer matrix reinforced with glass fibers. GRP pipes have very high corrosion resistance ability and are used widely for low-temperature corrosion-resistant applications, such as in corrosive water services.
Currently, the GRP pipes are slowly replacing the steel in various services due to excellent resistance to corrosive fluids. Additionally, GRP or FRP pipes can withstand high pressures without any problems.
The different types of pipes are selected according to the required properties like chemical resistance, temperature resistance, and mechanical properties. Following GRP Pipes are available:
GRP: Glass – fibre reinforced plastic.
GRE: Glass – fibre reinforced epoxy.
GRV: Glass – fibre vinyl ester.
GRUP: Glass – fibre reinforced unsaturated polyester.
GRP Pipes provides following advantages:
Corrosion resistance

: Corrosion resistant to both inside and outside corrosion. As a result, additional linings and exterior coatings are not required.

Lightweight:

Fibreglass piping is only one-sixth the weight of steel products and 10% the weight of similar concrete products. Less transportation and handling cost is one of most important characteristic for GRP/FRP pipes. 

Electrical properties

: Standard fibreglass pipes are nonconductive. No need for cathodic protection for GRP/ FRP Pipes. 

Low cost

. GRP / FRP pipes are cheaper than DSS pipe (Duplex stainless steel).

Low maintenance cost:

Fibreglass piping is easy to maintain because it does not rust, is easily cleaned and requires minimal protection from the environment. GRP/ FRP are materials Environmental friendly.
Codes and standards for FRP pipes
Following codes and Standards for the design of GRP / FRP Pipes are commonly used:
BS EN ISO 14692: Petroleum and natural gas industries – Glass-reinforced plastics (GRP) piping.
AWWA M45: Fibreglass Pipe Design.
UKOOA: United Kingdom Offshore Operator Association.
BS 7159: Code of practice for design and construction of glass-reinforced plastics (GRP) piping systems for individual plants or sites.
The most important code for the design of GRP Pipes is BS EN ISO 14692.
FRP design according to BS EN ISO 14692
ISO 14692, in Part 3, gives guidelines for the design of GRP /FRP piping systems. The requirements and recommendations apply to layout dimensions, hydraulic design, structural design, detailing, fire endurance, the spread of fire and emissions, and control of electrostatic discharge.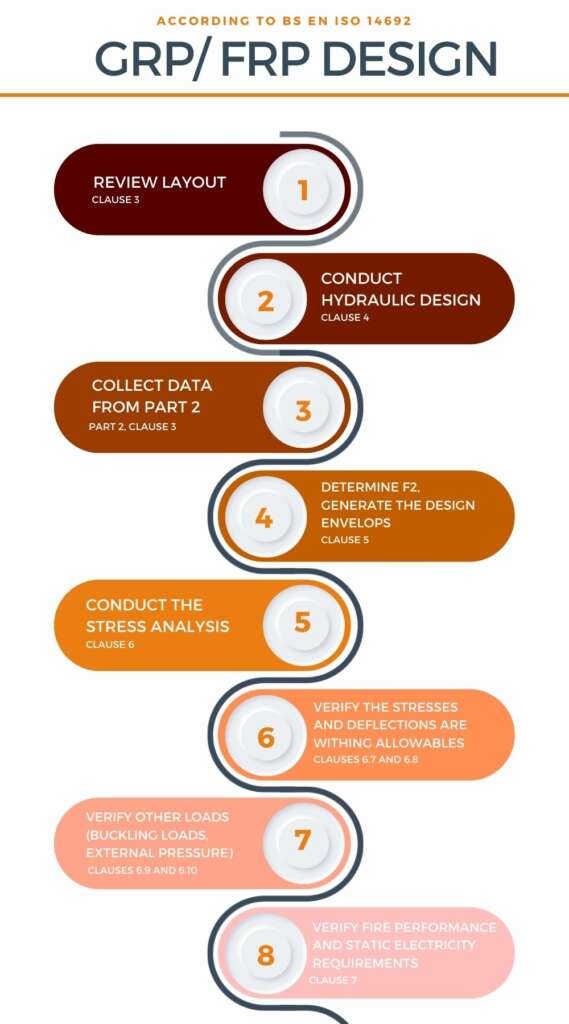 Piping stress analysis of these systems should be performed according to Section 7 of ISO 14692-3, considering all the design parameters:
Piping diameters/ thicknesses.
GRP Properties (Thermal expansion, Axial / Hopp Young Modulus, poison coefficient, and others)
Piping supports (type and position)
Design/ Operating temperatures/ pressures.
Hydrostatic Pressure. 
Installation temperature.
Wind, seismic, snow loads.
Buried parameters (for underground pipelines).
Water hammer forces.
Maximum allowable stresses (axial, hoop, and others)
Allowable deflections.
CADE's experience on grip flexibility calculation
CADE engineering counts on experience in performing this type of piping flexibility calculation on GRP pipes, alongside other specialized services, thanks to the knowledge acquired in more than 1800 projects along 15 years of activity.
In addition, CADE has become a leading independent company in engineering and consulting in technology, equipment and plants within the Oil & Power industries, thanks to a highly trained and committed team of engineers, supported by solid business management.
It is for all these reasons that we can say that CADE is the best option when it comes to performing pipe flexibility calculations on GRP pipes.
Following images shows some of the projects performed by CADE in GRP materials:
For any query or request for additional information about our services and technologies, please complete the following form: